Historic Atlanta black churches grieve, rethink security | News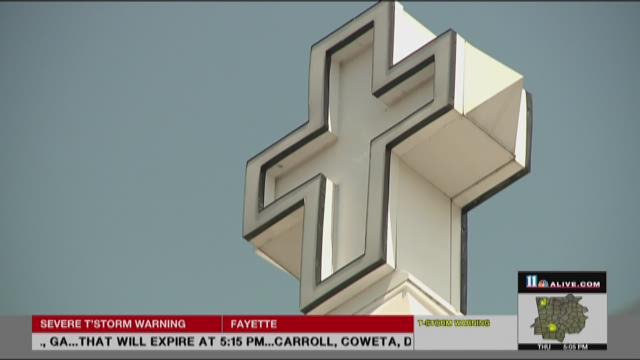 ATLANTA -- Alvin Bailey had a sign to change outside his church, Big Bethel AME on Auburn Avenue – and a message of solidarity and grief to send on its behalf to its sister church in Charleston, Emanuel AME chuch.
"We're just in prayer and just in shock to everyone as they were adjusting to the news this morning," said Big Bethel's pastor, Rev. John Foster.
Foster said one of the murder victims at the Charleston church was Rev. Myra Thompson, the mother of Big Bethel member Denise Quarles. Foster said Quarles was in transit to Charleston as of Thursday morning. Foster said Rev. Thompson was leading the prayer service that was attacked by a gunman Wednesday night.
Big Bethel is one of four historic black churches in the sweet Auburn district – including Wheat Street Baptist, Our Lady of Lourdes Catholic church, and Ebenezer Baptist Church. It's an area thick with tourists and other visitors who routinely wander into church sanctuaries.
"All of us in a real sense are at risk every day," said Rev. Raphael Warnock, pastor of Ebenezer Baptist Church. "These are soft targets for violence. And you're aware of it but you continue to live your life," Warnock said. He added that the church is re-evaluating its own security in light of the mass murder in the Charleston church.
"We do due diligence with security. We actually have (an off-duty police officer) on our grounds during our worship service to protect against this type of thing," Foster said. "But you never can protect against it 100%."
Foster noted that the street immediately outside his church east of downtown is rife with drug and prostitution trade.
Inside and outside of Big Bethel, the message was to maintain faith. Changing the sign outside, Alvin Bailey said church was still safer than the street outside.
"It's still safer in the church," Bailey said. "If I let the adversary spirit make me afraid to go in the church, where else can I go?"