Atlanta communities, denominations show unity amid Charleston, S.C. tragedy | News
Title (Max 100 Characters)
Atlanta communities, denominations show unity amid Charleston, S.C. tragedy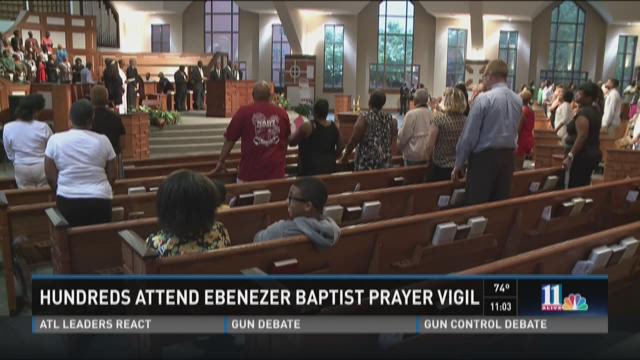 ATLANTA -- Millions of Americans are trying to make sense of what was a senseless attack including many here in Atlanta.
Hundreds gathered Thursday night at Ebenezer Baptist Church where Dr. Martin Luther King once preached to try and cope with the tragedy.
"Come on and thank him right now. I just want to thank you Lord," a unified group of mourners sang.
Representing all faiths, races and backgrounds and, with one common goal in mind, they all came out Thursday night to pray for the victims who lost their lives in Charleston, S.C. as well as their families and the nation as a whole.
They prayed in what appears to be yet another difficult time for all in the nation.
"The power of prayer is what we need right now and just positive vibes; people coming together and praying together for this tragedy," Bridget Anderson of Rise Up Georgia said.
But before Bridget Anderson made her way to the historic Ebenezer Baptist Church, she was a little hesitant about attending after learning about the shooting rampage at Emanuel African Methodist Episcopal Church.
"I didn't feel safe coming tonight but I knew that God would look over us and that he would keep us safe," she said.
She confided in a friend before the event.
"Actually, I talked with Bridgette on the way here and she told me, 'I'm scared. What if there is a bomb threat'," Reed Gallman of Rise Up Georgia said. "There's just all this going on and to me that was such a horrible way to think – trying to go to a church. But that's kind of the mindset that's going to be there now."
It was the old Ebenezer Church that sits directly across the street where a deadly act of violence would take place decades ago.
"Forty-one years ago this very month, the mother of Martin Luther King, Alberta Williams King, was murdered on a Sunday morning as she played the Lord 's Prayer," the Rev. Raphael Warnock said to a church full of mourners looking for answers in this latest tragedy.
He said there is work to be done to put an end to violence in our country.
"We have to condemn it wherever it shows up; wherever it rears its ugly head," he said to attendees.
They responded with applause.
Thursday night, there was a noticeable increase in security at the church.
Warnock said that it is unfortunate that churches are "soft targets" for those who wish to do harm.
Related stories:
All S.C. victims named, including part-time pastor
King's daughter reacts to Charleston church massacre
Historic Atlanta black churches grieve, rethink security
Charleston shooting suspect failed at school; arrested for trespassing